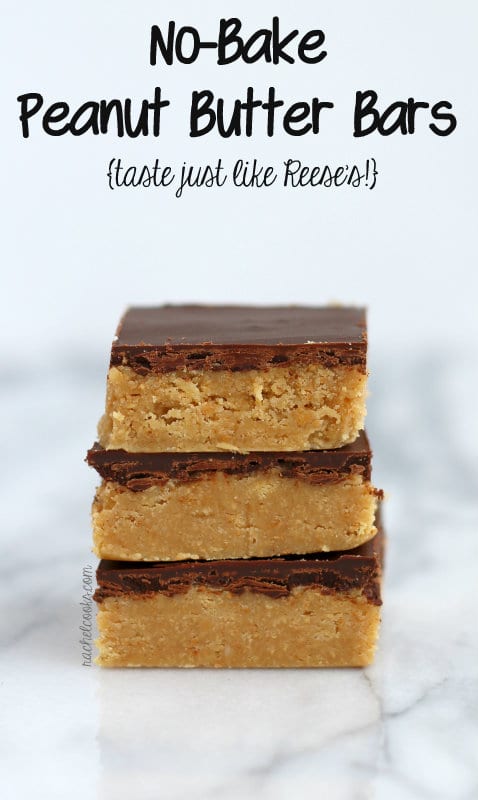 These No-Bake Chocolate Peanut Butter Bars only call for 5 basic ingredients and can be prepared in about ten minutes. The perfect straightforward dessert for chocolate and peanut butter lovers!
Happy Thursday, buddies! It's been a tiny quiet on the weblog the final couple weeks, but I promise there's a very good explanation. If you've been by my web site lately you may have noticed that it received a a lot-essential redesign. If you haven't observed it yet, you can hop on more than to the homepage to check out it out!
Also new on the site nowadays are these scrumptious no-bake chocolate peanut butter bars. If you've by no means tried them before then you are in for a actual deal with! The taste of these bars type of reminds me of a Reese's peanut butter cup and they're extremely easy to throw with each other.
You only want five ingredients to make these bars (that's like the peanut butter and chocolate, naturally) and they only get about 10 minutes to prep. The greatest portion? You don't even have to flip your oven on the make them!
To make these peanut butter bars, you'll begin out by creating the peanut butter layer which is just a simple mixture of melted butter, peanut butter, powdered sugar, and graham cracker crumbs.
It assists to whisk together the melted butter and peanut butter very first, then whisk in the powdered sugar, and then the graham cracker crumbs. The mixture will look a little soft, but it will firm up and slice very easily once it's refrigerated for about an hour and a half.
Also, I know that graham cracker crumbs are not readily obtainable in other countries so a great substitute would be digestive biscuits or anything similar.
As soon as you mix up the peanut butter mixture, you'll press it into a 913 pan and make the chocolate topping.
The chocolate topping is just a easy mixture of chocolate chips and some far more peanut butter. You'll need 2 cups of chocolate chips for the topping, which is equal to 1 12-ounce bag. The peanut butter is also needed for the topping because it aids maintain the chocolate layer a minor softer, so you can effortlessly slice into these bars.
As soon as the mixture is melted and smooth, just pour it on prime of the peanut butter layer and spread it all around.
Then, just cover the bars and let them chill in the fridge for at least an hour and a half so that they have ample time to company up.
Or, you can just prep these the night just before and take them out of the fridge when you're ready to serve them.